Blog: Better Public Restrooms
The #1 Question about #1 & #2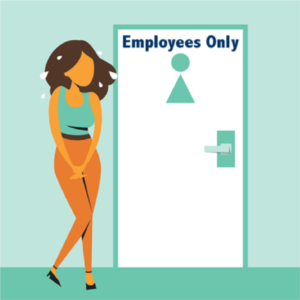 "Can an establishment deny me access to their restrooms?"
This ranks as probably the number one most asked question to the American Restroom Association. The answer unfortunately is "yes,""no," and "maybe." We've provided some links in the copy below for your information.
For employees at the work place, access to building toilet facilities is covered by well enforced Federal Regulations.   For customers or visitors to a business establishment, toilet access is covered mostly at the state and local level.  A few states and some municipalities have, or are considering, laws requiring 'customer' restroom access.  See Building Toilet Requirements for additional information.
More broadly, building restroom access at non-food business establishments is typically covered by state building code.  Most States adopt the same or similar 'Model Consensus Code'.  A typical example can be found at the following location in Sect 403 of the IPC's Minimum Plumbing Facilities.
Typically this code requires that all buildings have restrooms and that all occupants be allowed to use the restroom.  When a person enters a business establishment, assuming they were not immediately asked to leave,  they are an occupant. Locked restrooms are acceptable as long as all occupant requests to use the toilet facilities are honored.
You may have heard about "Ally's Law" or the "Restroom Access Act." The Restroom Access Act is a law passed in several states that requires retail establishments that do not have public restrooms to provide access to employee-only restrooms to their patrons in need.
The problem with all of the above is that enforcement is typically civil in nature and involves very small fines (think $50). Establishment either don't know about their local regulations or they feel that it is worth risking the fine.
We'll keep working on your behalf to support human restroom access legislation and short of that encouraging businesses to simply do the right thing. Read more on our Regulations page and on our Restroom Access Act page.
Subscribe to our newsletter to keep up on the latest. Click here.
An independent, 501(c)(3) nonprofit founded in 2004 
MEDIA: Let us connect you with the best expert to support your news and media projects.
INVENTORS, MANUFACTURERS, SUPPLIERS, & SERVICE PROVIDERS: We want to hear your stories about how you are leading change in restroom design and maintenance!