Blog: Code Improvements and Design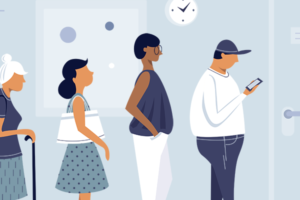 This story is about the disparity of the availability of public restrooms as traditionally defined as "men's" and "women's" restrooms. (Again, gender-neutral and family/caregiver restrooms is a story for another day, as well.) When venues are built, builders typically do two things. First, they farm the design of the restrooms off to the newest and least experienced architects. Second, they tell the architects to do the minimum that the code requires. Building codes have for decades specified equal distribution of toilet facilities.
Contact Us
American Restroom Association, Inc.
P.O. Box 21237
Catonsville, MD 21228
An independent, 501(c)(3) nonprofit founded in 2004
MEDIA: Let us connect you with the best expert to support your news and media projects.
INVENTORS, MANUFACTURERS, SUPPLIERS, & SERVICE PROVIDERS: We want to hear your stories about how you are leading change in restroom design and maintenance!