Blog
Welcome to our blog.  Want to know what is on the minds behind the American Restroom Association? This is the place. We're looking forward to sharing our thoughts and concerns, and to continuing to advocate for availability and accessibility of clean, safe, well-designed public restrooms.
We are the ARA!
Have you seen our new 35-second introduction video called "We are the ARA"? It is posted right on our home page. Click over there and check it out.  Go ahead, it's okay. We'll wait . . .
Pretty good, no? But what's the point? There are three main points:
3 Main Points
The American Restroom Association is made up of just regular people. We are human beings – moms and dads, grandparents and grandkids, partners and spouses. We are people who need to use the bathroom when they are out in public. And, we are people who might need to provide care and assistance in a public restroom to someone else.
We are also independent and diverse experts in various fields that touch on the physical, structural, and social understanding and impacts of the availability (or lack of availability) of public restrooms: architects, social workers, educators, restroom builders, community advocates, and more. We are not beholden to any industry manufacturers or suppliers.
The American Restroom Association is a collaborative support system for myriad restroom advocates and organizations across the country. We believe that our collective power can drive a "toilet transformation" here and around the world. Won't you join us in our quest for safe, available, and well-designed public restrooms?
Click here to subscribe to our monthly email newsletter!
---
All Blog Posts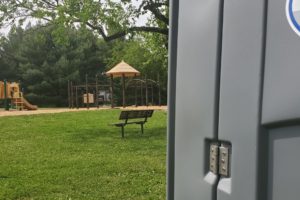 Here is it! This Memorial Day weekend marks the start of summer. Americans will be taking to the road in waves not seen in nearly two years. You'll be at rest stops, you'll be at resorts and vacation spots, you'll be at parks and beaches. What we want to know is: Are America's Public Restrooms open? What condition are they in? So, head over to your favorite social sites – Facebook, Twitter, Instagram, Reddit, and Pinterest and show us **discreetly** the good, the bad, and the ugly of restrooms in the USA. Use the hashtag: #OpenUP_ARA.  Feeling old school? getinfo@americanrestroom.org works, too!
An independent, 501(c)(3) nonprofit founded in 2004
MEDIA: Let us connect you with the best expert to support your news and media projects.
INVENTORS, MANUFACTURERS, SUPPLIERS, & SERVICE PROVIDERS: We want to hear your stories about how you are leading change in restroom design and maintenance!